Hockerty – Wedding Suits Collection 2022
2022 is the year to get married! – Time for your perfect fitting suit in personal style
This year is expected to be the most weddings since 1984. After all the postponements and cancellations, there is supposed to be a real wedding boom. Don't panic, Hockerty has everything for the groom-to-be, groomsmen or guest, just mark all weddings on the calendar and plan ahead.
Here are already the favorite looks of the
Wedding Suits
2022:
The natural groom
A tweed suit goes perfectly with natural tones like gray and brown and dresses any groom in a stylish vintage look. As a three-piece with vest, it is popular both in spring and autumn. Colorful accessories can be used to emphasize your own style and the color theme of the wedding celebration. Playfully, the groom can choose his vest in a different shade to create his individual look. Such a tweed suit will stay with the groom long after the wedding and can be used as an outfit on other ceremonial occasions. Popular for boho weddings, country style, backyard weddings and more outdoor venues.

Three piece tweed suits in gray
The traditional groom
Traditional does not always have to be boring, but can also be timeless and modern. A formal wedding suit will emphasize the elegance, quality of fabrics and good fit of the garments and it does not always have to be black. More and more grooms-to-be are turning to classic shades like dark blue and gray, while the more daring also dare to walk down the aisle in a bold hunting green or a full-bodied Bordeaux. Suitable for all formal weddings and large celebrations.

Bordeaux red wool blend three piece suit
The modern groom
Modern, urban and sophisticated. A wedding suit in black tones is essential to create a formal, timeless outfit. Luxurious fabrics and endless options for the modern wedding suit Hockerty offers for today's groom: timeless classics universally applicable!

Wool Blend Tuxedo with Pocketkerchief
The summer groom
Comfort and relaxation above all else at your own wedding is in a breathable suit of linen-cotton fabrics in a coordinating color choice for groom and groomsmen. Summer fabrics come in endless shades of summer and unique patterns. Popular for summer weddings and warm spring days.

Linen and cotton plaid suit
The Groomzilla
If the groom is more particular about his wardrobe than the bride and also dares to do some things, the eye-catching and luxurious outfits from Hockerty are exactly his. Whether it's eye-catching brocades in royal blue or a velvet suit in pink – standing out is the name of the game here and it has to be Instagrammable!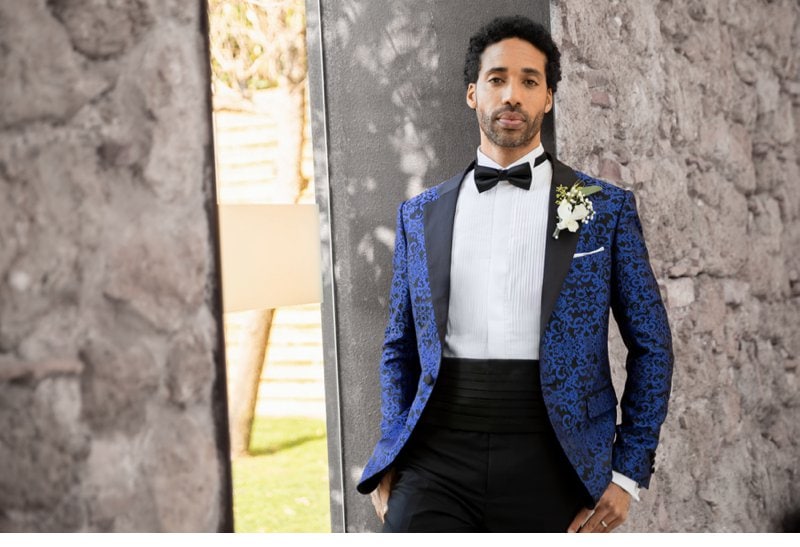 Hockerty tailors the dream suit for the perfect dream wedding and all suits can be ordered online.
About Hockerty
Hockerty is the world's leading e-commerce brand for 100% customized clothing. Today, 14 years after its founding as a small, privately funded startup, Hockerty has grown to serve hundreds of thousands of customers worldwide. With a meticulous focus on quality, Hockerty's team of more than 60 employees in Zurich, Barcelona and Shanghai works to offer new customized products. Together with customers, Hockerty and Sumissura are helping to build a world based on a global society that buys less, buys better and buys clothes that last and fit perfectly.