Happy wedding couples around the world who got married in shoes from Hockerty
The grooms (and their brides) who dared to order their wedding shoes online.
All over the world happy grooms got married in
handmade wedding shoes from Hockerty
, which they designed and ordered online themselves. Handmade in Spain and Portugal, the shoes reach future grooms worldwide in three weeks.
The most popular are black shiny shoes, A classic, beautiful pair of shoes you can't go wrong with are black Oxfords. In black, these shoes are still the most elegant option and the most commonly used for all types of weddings. As a stylish and eternal classic for all weddings are considered black oxford shoes in patent leather.
The fact is that a pair of classic oxford shoes will stand by the groom for many years to come and turn out to be an elegant option for many outfits. More fashionable go with a Monkstrap: a classic oxford shoe, provided with a strap instead of laces or with a shoe cut from a single piece of leather, the wholecut. Both are very modern choices for today's groom that he can't go wrong with. In recent years, they have passed all the company tests with flying colors. Suitable for any groom who loves classic and tradition. Black goes well with any suit color and black groom shoes will be a very elegant wingman for the big day.
Tuxedo shoes are the most elegant choice among groom shoes. Shiny, polished look, simple oxford design that has always been and is fashionable – a great choice to go with a tuxedo. The uniqueness and elegance of tuxedo shoes is so timeless that tuxedo shoes have evolved only slightly since the last century. Basically, the same shoes will be worn as the gentlemen of the 70s and 80s who danced the night away in jazz bars.
Formal tuxedo shoes are black only and are worn exclusively with tuxedos. The "black rule" allows grooms to play with the colors of tuxedo jackets and make another fashion statement if they wish. Best suited for a groom wearing a wedding tuxedo, agentleman enjoying the Great Gatsby era.
Brown wedding shoes are another great option for the special day. Brown is generally considered less formal than black, so it's not recommended for strict black-tie weddings. There are so many options when it comes to brown shoes for the wedding -a pair of oxfords or derbies? Derbies are less formal due to their open lacing system and therefore popular at less formal weddings. The most typical wedding venues for brown wedding bows are barns, woods or outdoor wedding venues with close access to nature.
Brown wedding suit and brown shoes
Now for the most popular combination of recent years: blue suit and brown shoes. This ensemble spread so far and fast that it is common to see grooms in blue wedding suits and brown shoes all over the world. No wonder – the color combination simply suits any groom. Best for all! This look is such a fresh, colorful choice that you really can't go wrong with it. This is also demonstrated by Hockerty customers* worldwide here.
Loafers for the wedding
In recent years, the popularity of wedding loafers has increased significantly. Loafers are mainly worn for summer weddings and offer the combination of comfort and fashion. They are easy to put on and take off and look stunning when paired with a linen suit. Tassel loafers and penny loafers are the formal types, but keep away horsebit loafers are also suitable for a beach or garden wedding. The informality of the wedding is evident here, if the groom is wearing loafers, the dress code should be casual. Folding your pants over or wearing them a little shorter will also highlight the loafers and add an extra touch of casualness. Best suited for summer weddings, casual dress code and grooms looking for comfort and style.
Shoes for groomsmen
In principle, the same rules apply to groomsmen as to the groom. In line with the suit and the dress code of the wedding should be the choice of shoes, but even here there are enough creative options.
Here are a few real brides and grooms from around the world who have dared to order their wedding shoes online.

Hockerty customer in black oxford wedding shoes – photo: @keegancronin

Hockerty customer in black derby wedding shoes – photo: @kelsiejohanna

Hockerty customer in shiny black wedding shoes – photo: @whitneyblakephotos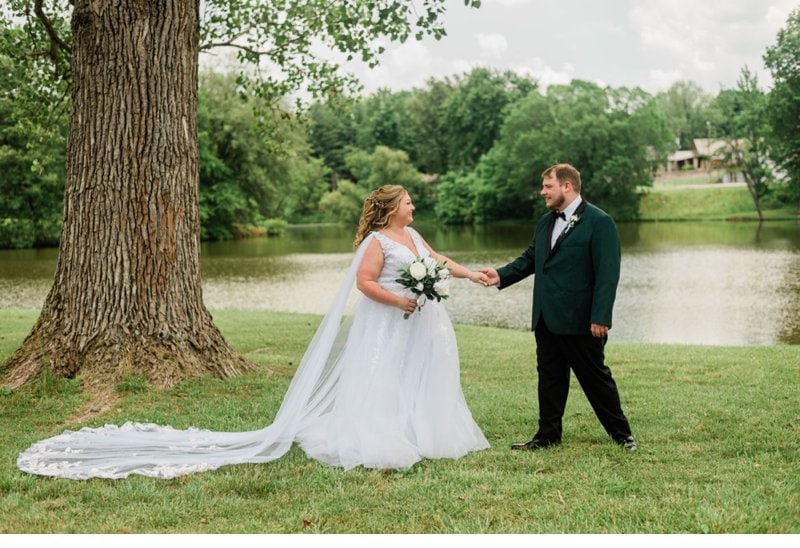 Hockerty customer in black shiny wedding shoes by @adamandbecca

Hockerty customer in black shiny wedding shoes by @erika_johns

Hockerty customer in light brown derby wedding shoes by @mportugalp