Lilac wedding dreams
There are many lovingly designed details that make this editorial by Elena from Melograno Wedding Lab a wonderful journey into a fairytale wedding world. She has left nothing to chance. Everything is stylishly arranged and merges into a harmonious overall concept. It's all about inspiration, individuality and innovative impulses that lay the foundation for new visions.
Villa Grabau in the midst of the hills of Lucca with its magnificent garden offered itself as an idyllic backdrop for this unique editorial.
From Elena of Melograno Wedding Lab: "I strongly believe in inspirational shoots as a way to express yourself and a tool to inspire couples. When I started thinking about this project, I envisioned some clean, bright images with delicate tones. My intent was to convey purity, to create an ethereal mood that would resonate in the heart of the spouses looking for a fairy atmospheres and an elegant touch.
In order to bring this project to life, finding the perfect photographer was key to me. Irene Fucci was the perfect professional to bring my dream to life, so I got in touch with her and we immeditaly connected both in terms of ideas and personality. It was fun to discover that we had both been working on similar ideas so we decided to combined them and start planning the shoot.
Our aim was to recreate the feeling of a secret and enchanted garden. This is why we chose Villa Grabau and its immense garden full of lawns and imposing old trees.
We wanted to replicate this atmosphere on the table as well. That's why, Simone Sardelli, talented florist of the day, used different heights and organic compositions.  His delphiniums, roses, dalias and snowberries look like they had casually grown in a garden and are no longer used as a simple decoration but as an elegant way to enrich a work of art .
The mise en place by Self Party, consistent with the floral theme, is made up of simple and soft lines, starring a dish shaped like a flower, whose collection, not surprisingly, takes the name of Peony. To complete it all, the blind letterpress menus by Pink Ink Studio and the handmade placeholders.
Last but not least the bride's dress played a fundamental role to complete the vision. We imagined a celestial and harmonious creature, wrapped in light and soft lilac tulle gown. Millia London's dress is soaft and floating, a cloud that frames the femininity and elegance of our bride."
We now let ourselves be enchanted by the stylish ideas of Irene Fucci's  impressive pictures.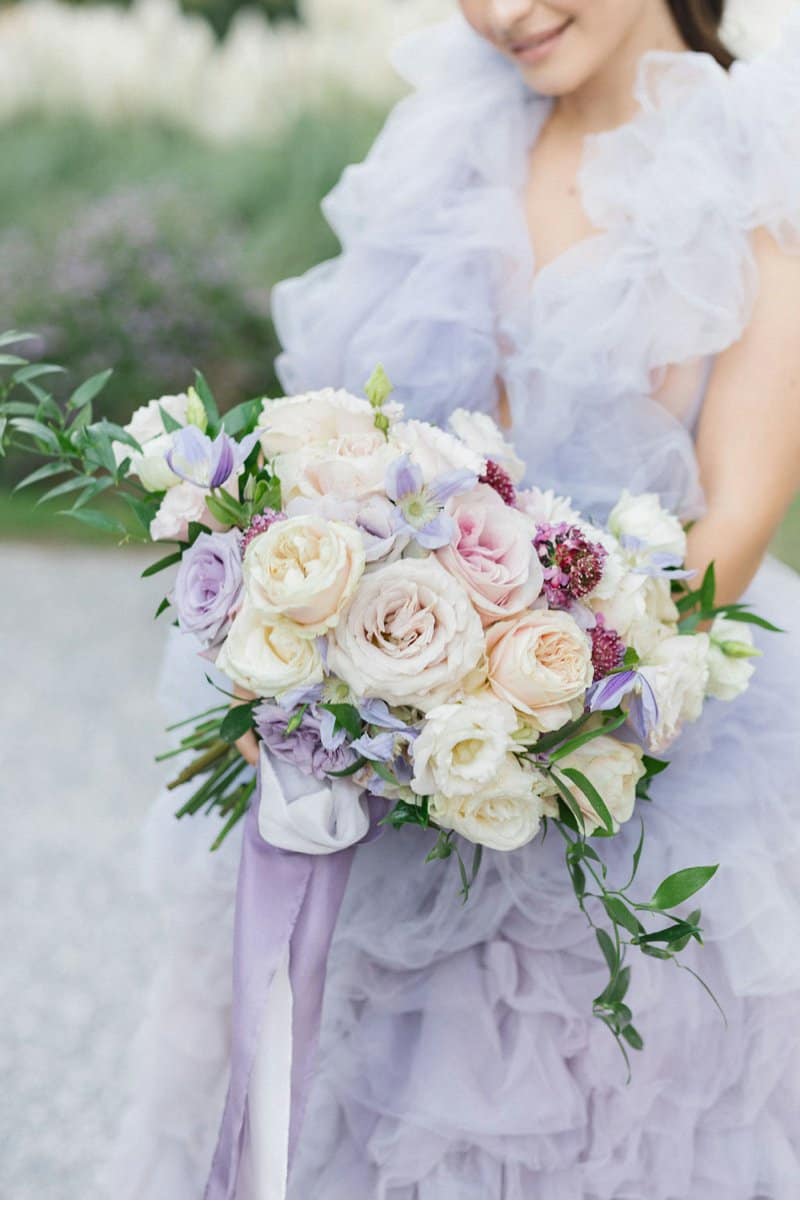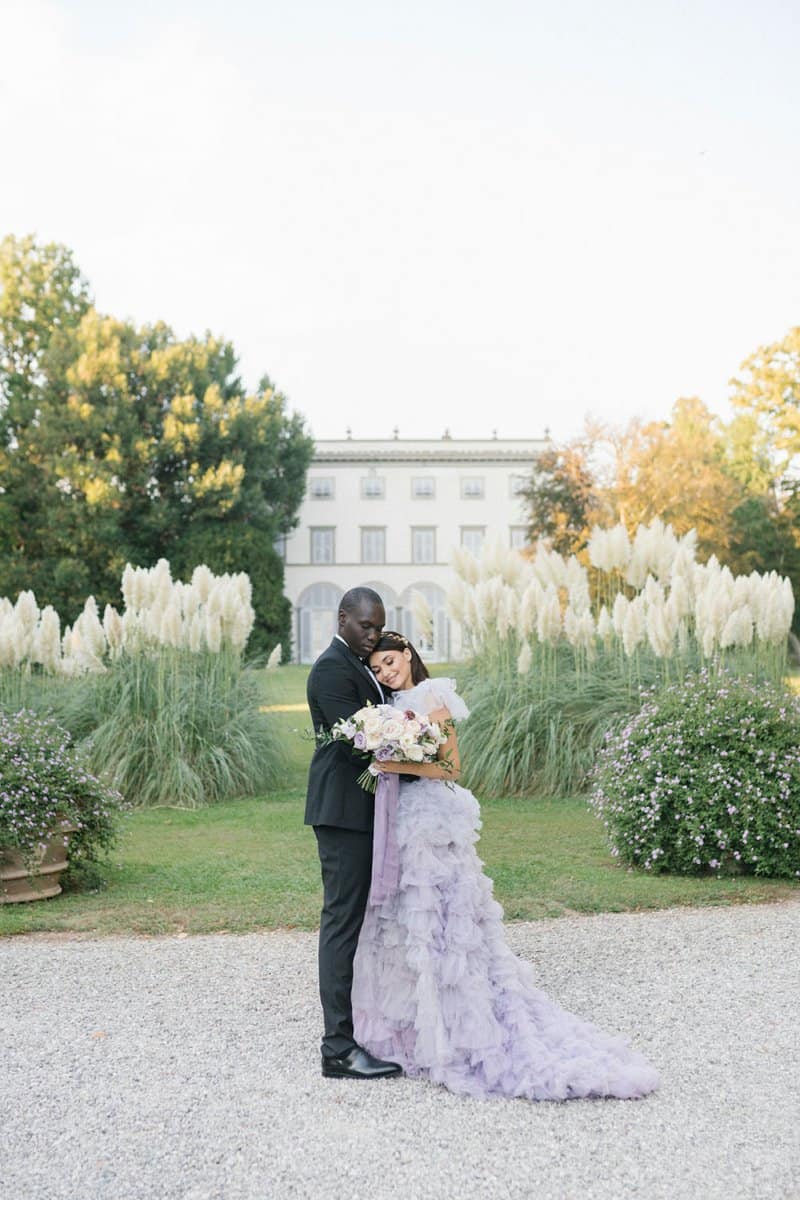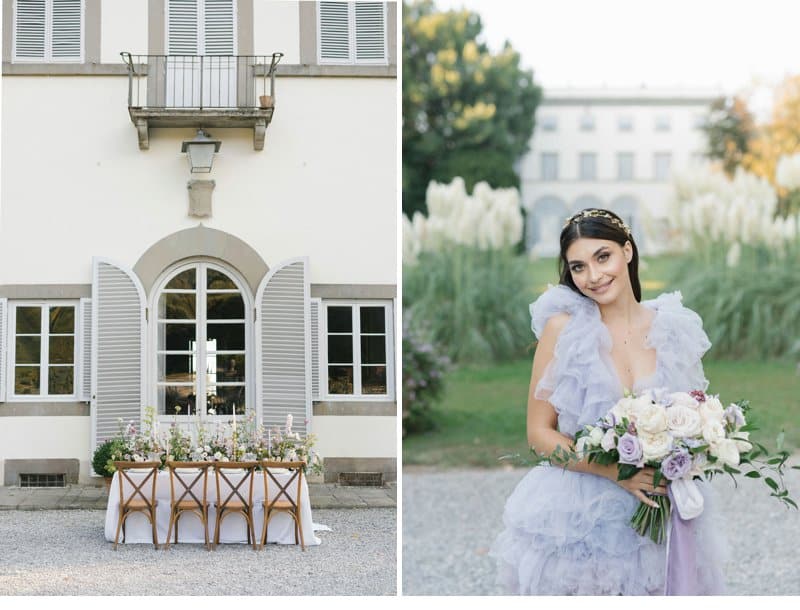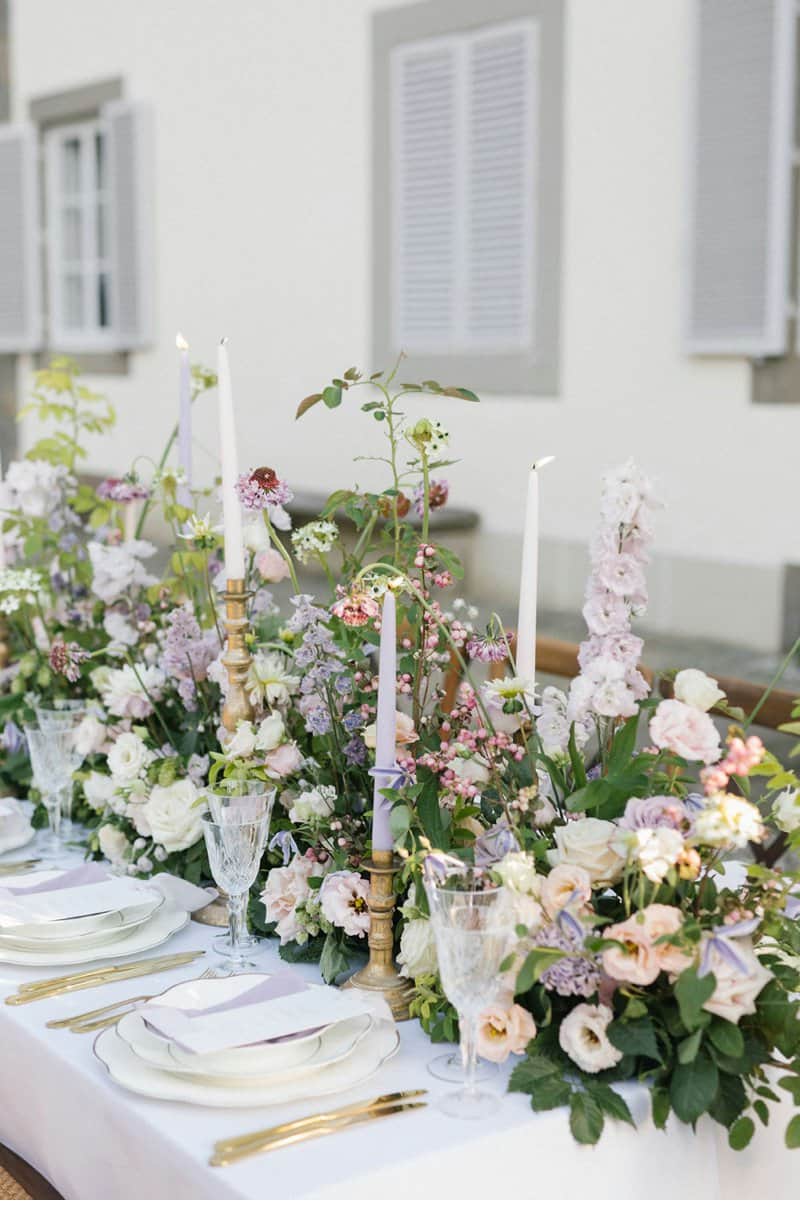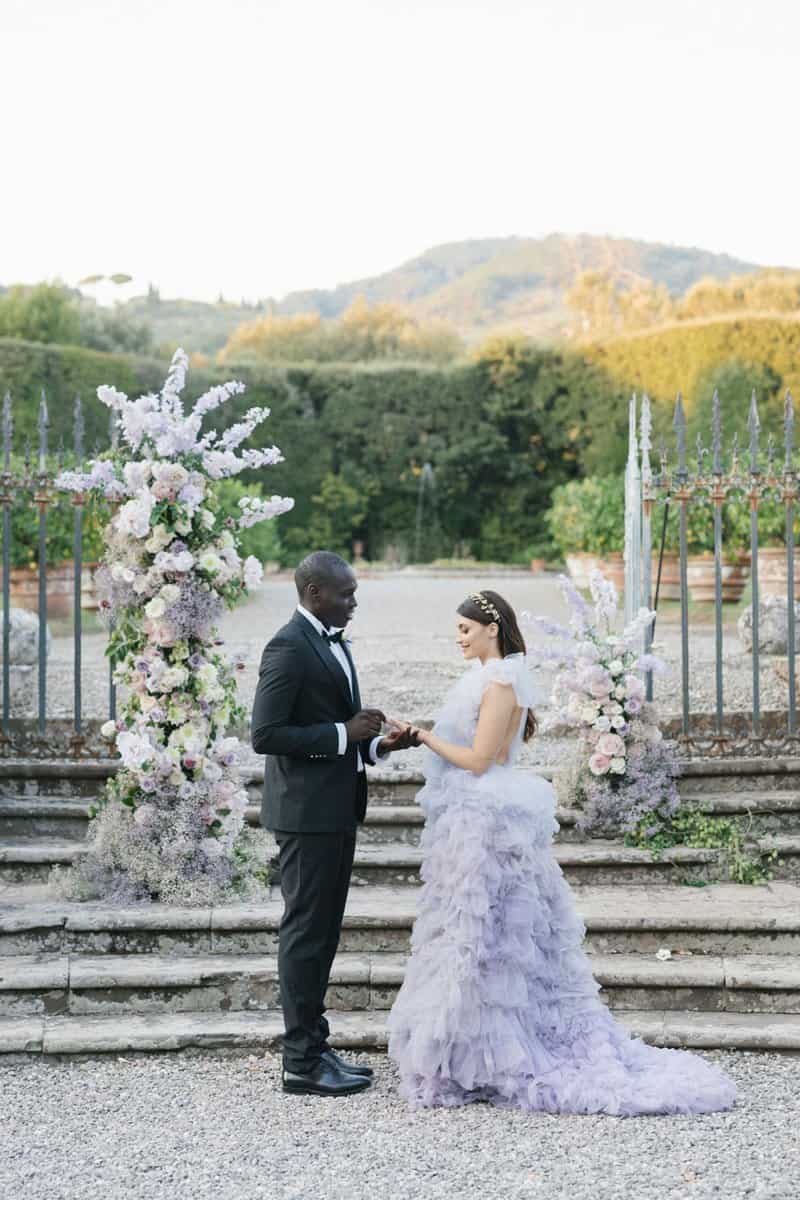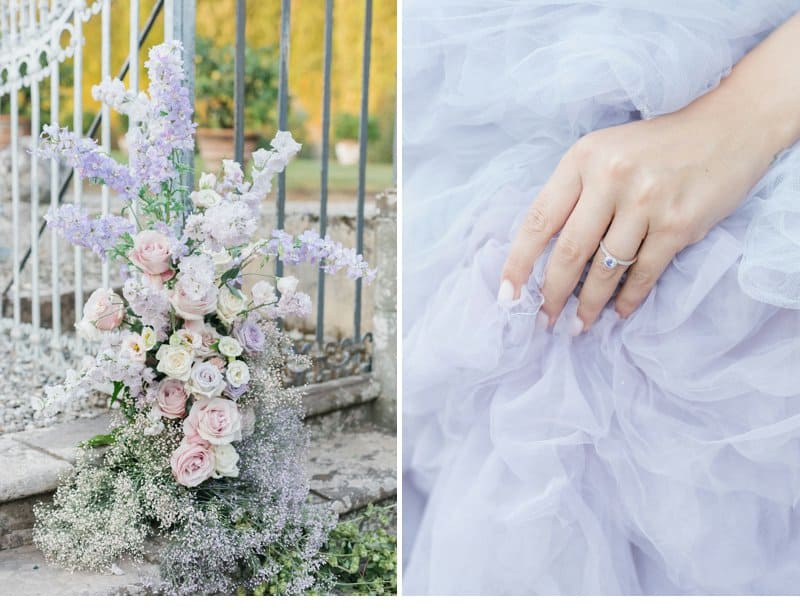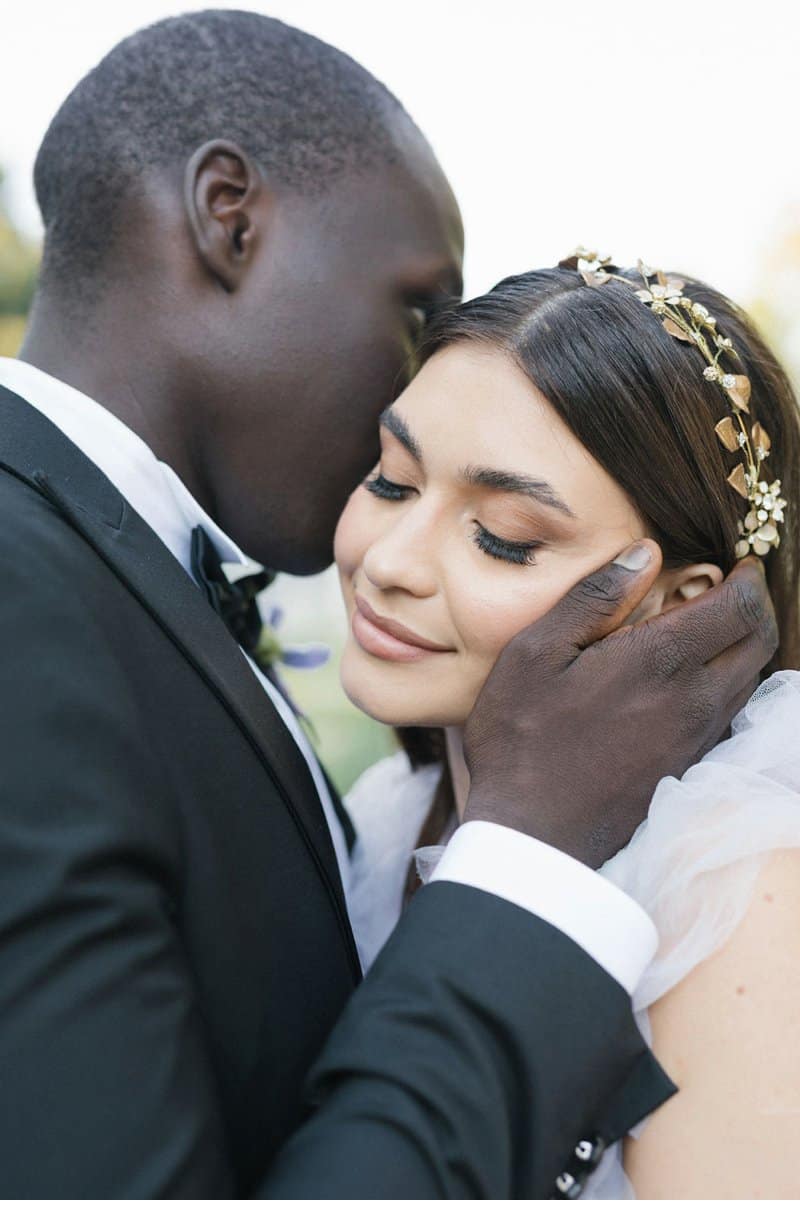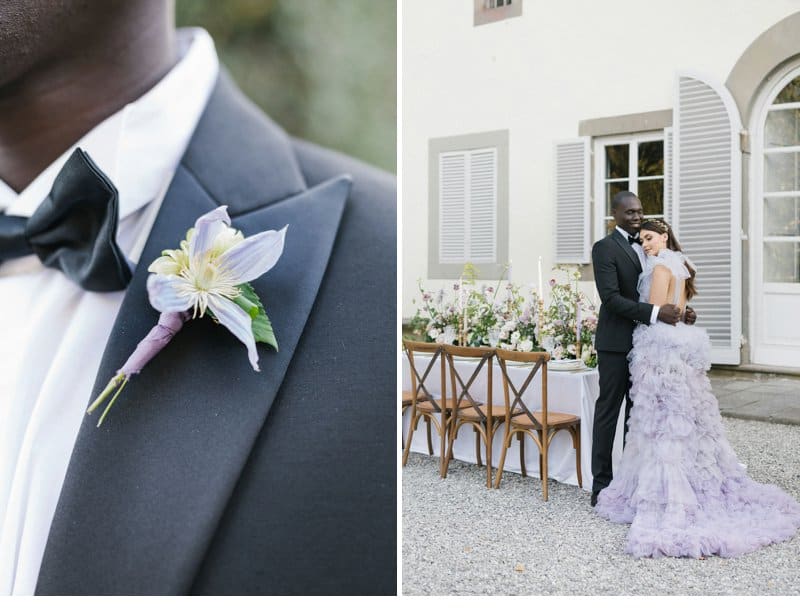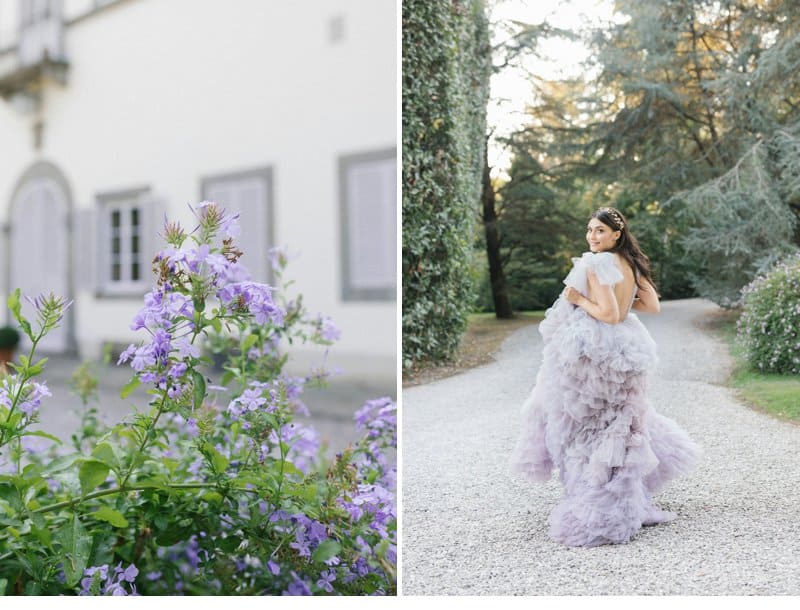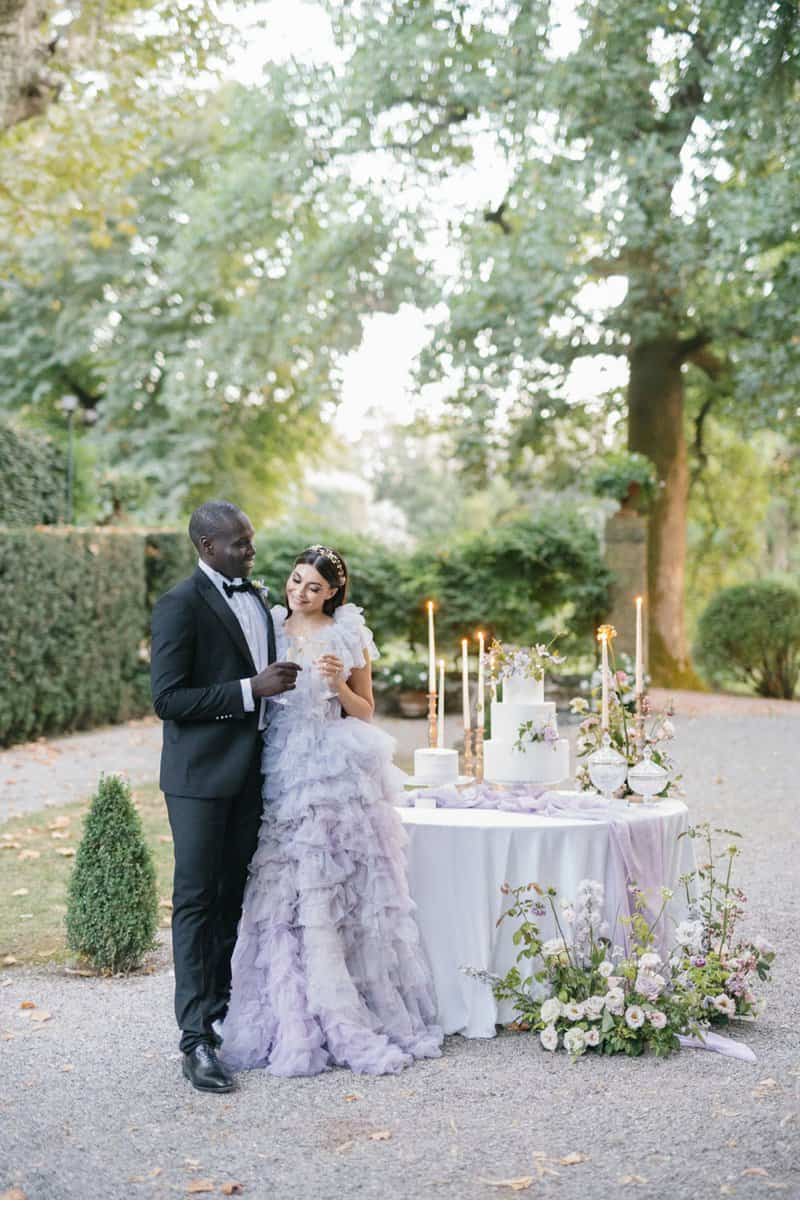 Photography and Concept: Irene Fucci
Planning & Design: Melograno Wedding Lab
Venue: Villa Grabau (Lucca, Tuscany, Italy)
Flower Designer: Simone Sardelli
Stationery and Concept: Pink Ink Studio
Bridal Dress: Millia London
Engagement Ring: Taya Jewels
Rentals: Self Party
Mua: Barbara Corso
Bridal Shoes: Serrese
Groom suit : Le spose di mori
Cake and Sweets: Le Bontà
Accessories: Magnolias on Silk
Ribbons: Silk and Linen
Headpiece: Jannie Baltzer
Bridal Robe: Girl and a serious dream